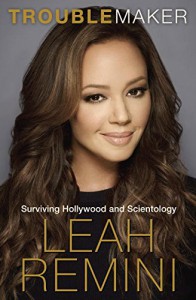 I should shelf this book in the horror section... I don't understand how in the world this cult still exists, it is crazy. Why would people go into this willingly? It is totally wacko, and their representatives are even more wackos. That Tom Cruise is some case. Should be in a mental institution. He is lucky he is charismatic. But damn, I will never see him with the same eyes again. Not that I liked him before, I have always sensed some weird vibes from him, but then, he is charming. Seems like behind that charming smile hides a monster-kid, ugh.

The whole concept of Scientology is scary and crazy; are we living in the past? How can people still be on this when they are forced to pay thousands of $$, be humiliated (like, being forced to clean public bathrooms with a toothbrush, or being punched repeatedly??) and controlled by other people? Who the hell are these "representatives" to demand money and personal secrets and then, silence? And the rest all keep quiet and pay and, if demanded to, are willing to erase a loving one (a friend, a family member) as he/she has never existed, only because said person is a SP ("Suppressive Person", or someone who is against the "church") or else. What. This is freakishly scary. And nuts.

It is a very interesting book (I was not familiar with Leah Remini before this, but I liked her personality, straightforward and blunt). There are hundreds of acronyms and special names given by this cult; it was a bit overwhelming and sometimes confusing. I have millions of questions currently, so now I am spending my time googling about Shelly Miscavige, and David Miscavige and Crazy Psycho Tom Cruise and the likes.

Recommended. It is informative, in regards to celebrities and Scientology (juicy stuffs) and it is very short (the last 30 pages or so are just photos). Now I am going to dig more into Scientology cult story if I can.